At Jai Medical Center, We Care About Your Health.
About Jai Medical Center
At Jai Medical Center, we care about your health. For more than 50 years, Jai Medical Center has been proudly serving the Baltimore community. Jai Medical Center's mission is to provide high quality, compassionate health care to the people of Baltimore, regardless of their ability to pay.
All Jai Medical Center locations accept Medicaid, HealthChoice, Medicare, Blue Cross / Blue Shield, Department of Social Services Disability Determination vouchers, foster care children, the homeless, and we offer care to the uninsured on a sliding fee schedule, based on the patient's ability to pay.
What does Jai mean?


Jai is not an acronym. Jai is a person's name, which when translated from Hindi means Victory.
Jai Medical Center, a health care provider, is not the same company or agent of Jai Medical Systems Managed Care Organization, Inc, a licensed health insurance company regulated by the Maryland Department of Health and Mental Hygiene and the Maryland Insurance Administration. The medical centers listed above, are participating providers in the Jai Medical Systems Managed Care Organization network.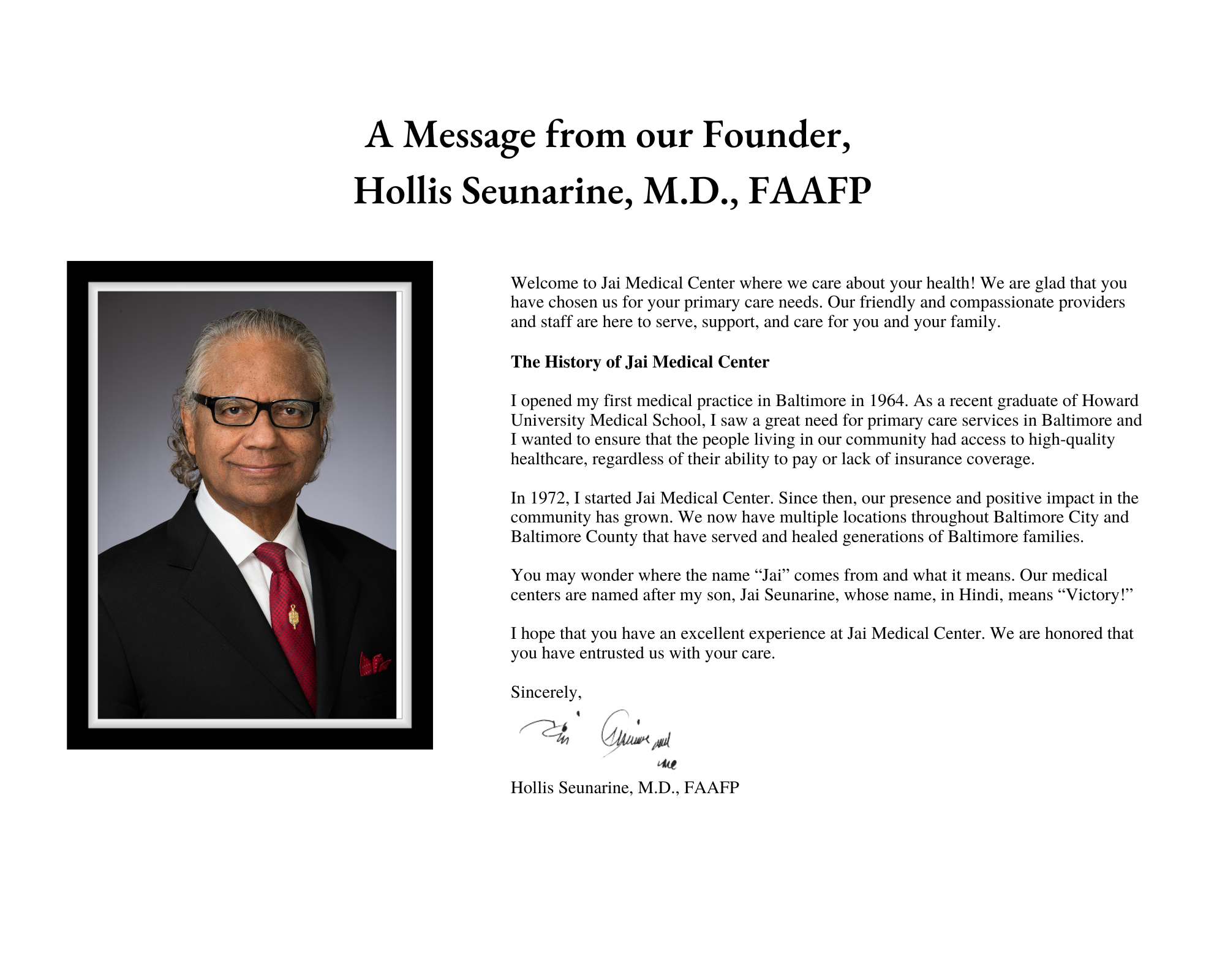 Jai Medical Center - York Road
5010 York Road
Baltimore, MD 21212
Phone: 410-433-2200

Jai Medical Center – York Road Pediatrics
5234 York Road
Baltimore, MD 21212
Phone: 410-433-2200

Jai Medical Center – Park Heights
4340 Park Heights Avenue
Baltimore, MD 21215
Phone: 410-542-8130

Eutaw Medical Center
2425 Eutaw Place
Baltimore, MD 21217
Phone: 410-728-6900

Jai Medical Center – Monument Street
1235 East Monument Street
Baltimore, MD 21202
Phone: 410-327-5100

Jai Medical Center – Hunt Valley
301 International Circle
Suite 100
Hunt Valley, MD 21030
Phone: 410-433-2200